Unable to Ship to the Following Countries Due to the EU government and the UK government requiring taxes to be collected by us and remitted to each individual country we are no longer able to ship to the following countries: Austria, Belgium, Bulgaria, Croatia, Republic of Cyprus, Czech Republic, Denmark, Estonia, Finland, France, Germany, Greece, Hungary, Ireland, Italy, Latvia, Lithuania, Luxembourg, Malta, Netherlands, Poland, Portugal, Romania, Slovakia, Slovenia, Spain, Sweden and the UK. Any orders placed shipping to one of these locations will immediately be canceled and refunded.
Wooden Perpetual Calendars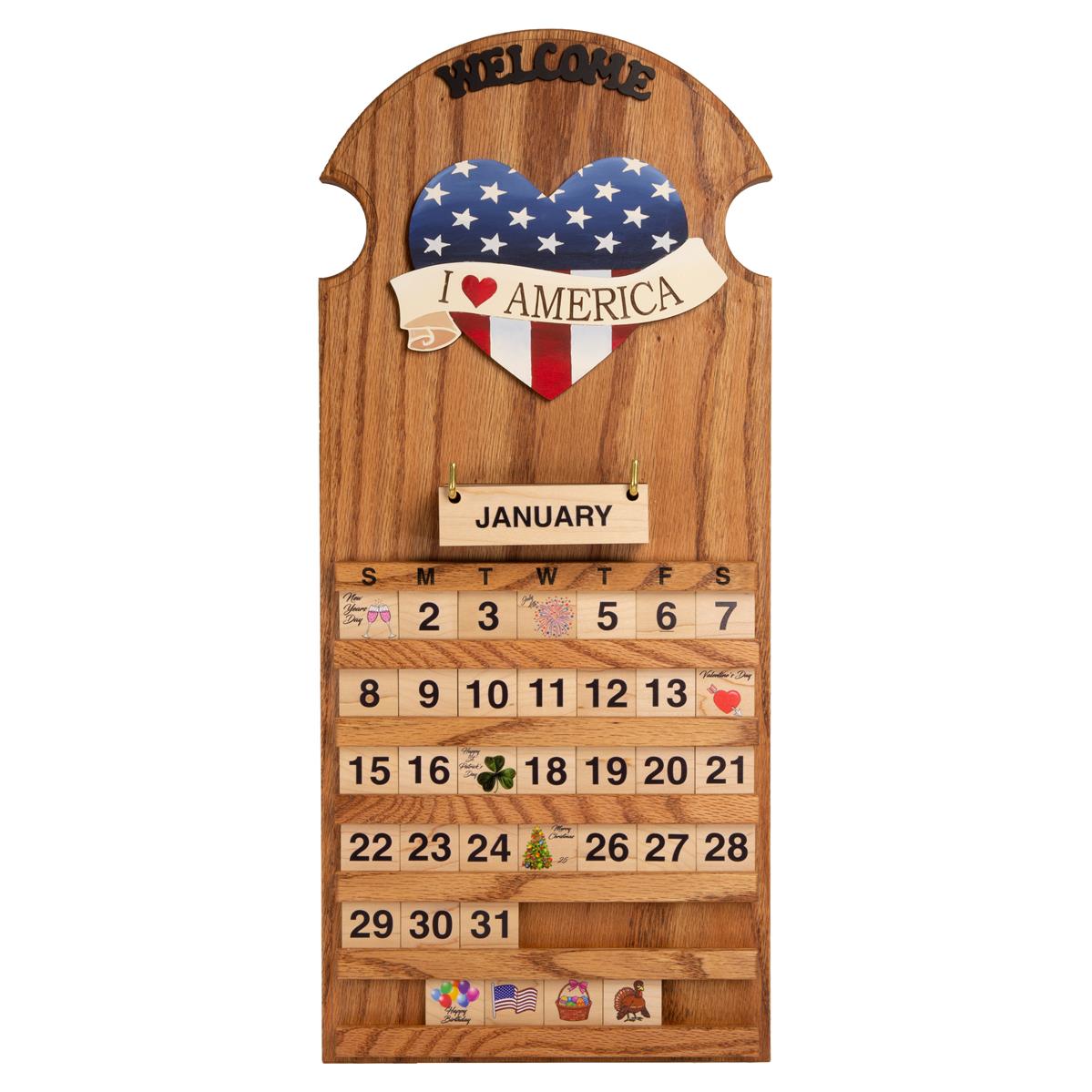 Our Oak Perpetual Calendars Include:
Hand painted, laser engraved artwork
Inlcudes "Welcome" across top of calendar. Can also be personalized.
31 numeric date squares
Month Tiles (two months per tile)
Holiday squares:

4th of July; Birthday; Christmas
Easter; Halloween; New Years Day
St. Patrick's Day; Thanksgiving;
Valentines Day
Additional Information
Dimensions: 10" x 23""
Handcrafted by Craft-E-Family
Additional Calendar Tiles available for the wooden perpetual calendars
Chose from more than 70 additional
calendar tiles
---
Our Wood Perpetual Calendars have a special meaning to Craft-E-Family. Our business got its start by making Perpetual Calendars and selling them at craft shows around the midwest. Lloyd was on the sawmill producing oak and poplar lumber. Then he would craft them into calendars in his personal wood-shop. Meanwhile, Joyce was hand painting the artwork that would be featured on calendars. She would also paint all of the special holiday tiles. While our processes have changed over the years the calendars still represent the same quality Lloyd and Joyce believed in 40 years ago.